About Pohopa
At Pohopa, we strive to push the boundaries of design and technology. Our products are crafted and articulated with a mindset on maintaining the highest quality standards for the ultimate mobile experience.
√ UNIQUE LANTERN DESIGN: Featuring unique lantern shape, this portable wireless speaker is a beautiful scene wherever you put or hang it. Bluetooth V4.1 works with cell phones, amazon new echo dot, tablets, play audio from Laptops, PCs, mp3 players. 3.5mm audio mini jack allows simple wired connectivity. Plus IP54 waterproof and dust-proof, perfect for home, backyard, patio, lawn, garden, camping, etc.
√ LED LIGHTS AROUND&10W POWERFUL SOUND: 20-piece built-in bright LED lights around lights up for night time use. 10W revolutionary full-bodied stereo boosts nice crisp highs and grounding bass from a big subwoofer, advanced digital sound, noise/wind reduction technology, and unique loudspeaker cavity structure to deliver premium acoustic sound, allowing you enjoying deeper and richer lows than expectations.
√ MULTIPLE WIRELESS PAIRING&HOW TO USE: 5.8GHz technology means stereo pairing, supporting 2 or more B210D paired and shared audio perfect sync with no delay. Connect them together to create left and right even more channels to enjoy 20+ Watts surround sound. Just remember to get your Host speaker paired on first, then press and hold the Bluetooth button on the sub speaker for 2 seconds. Music shall be synchronized after a beep sound.
√ LARGE CAPACITY BATTERY: 4400MAH built-in high capacity rechargeable lithium battery supporting up to 8 hours continual music playback with LED lights on at 1/2 of the volume on a full charge, or 4 hours at full volume, or 20 hours LED light, or more than 10 hours continual music playback with LED lights off at 70% of the volume(which is more than enough indoors). Ideal as a companion or gift for parties, celebrations, BBQ and more.
√ WHAT YOU GET: Pohopa Bluetooth speaker, Micro-USB cable, 3.5mm stereo audio cable, our worry-free 12-month warranty and friendly pre-sales and post-sales customer service, which make your purchase absolutely risk-free and you can enjoy testing out it's quality and durability.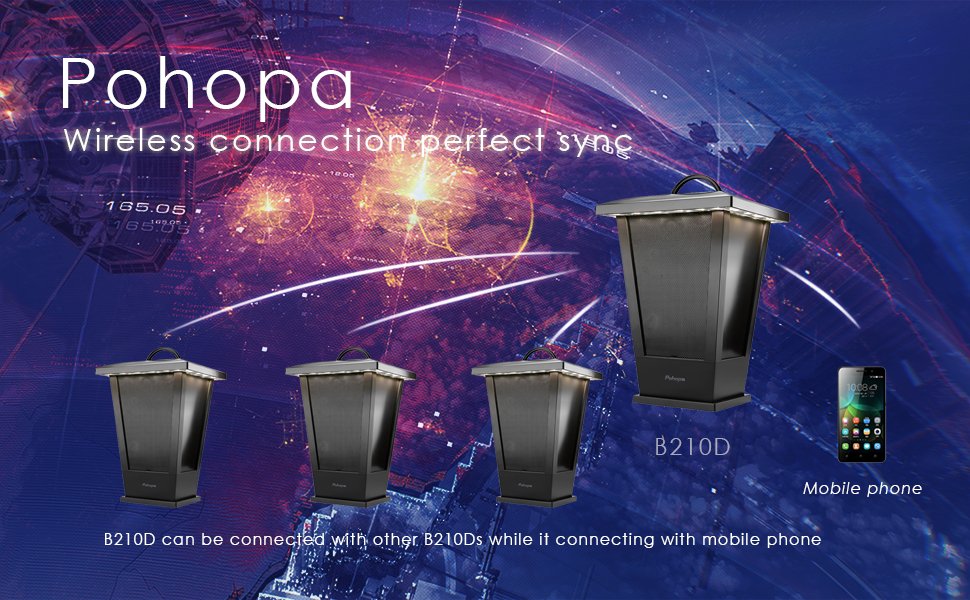 Multiple Wireless Pairing
Can you imagine a song can be played in multiple Bluetooth Speakers simultaneously? Does it sound amazing? Pohopa B210D really can do it. With the latest 5.8GHz and Bluetooth 4.1 technology, Model B210D Speaker is able to support 2 or more same type of speakers paired and shared audio perfect sync with no delay. The distance can reach up to 60ft. When hosting a party or spending quality time with family at home, we are surrounded by music really cool.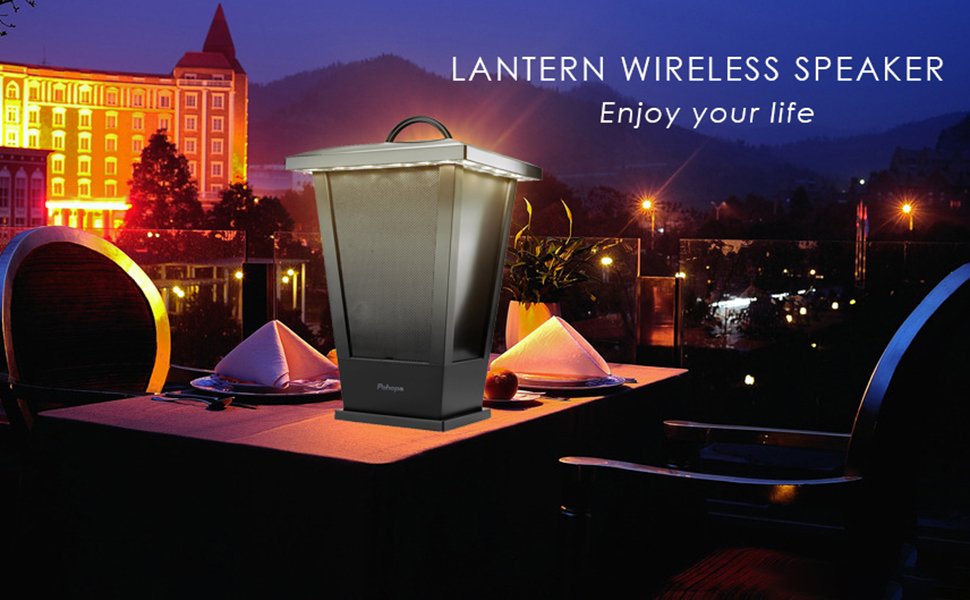 LED Strip Lights Around
Unique and portable, this Speaker is designed with 20-piece LED lights, which creates a bright and romantic atmosphere for you to share the relaxed and pleasant moment with friends in a party, during a barbecue or even on a date, and it is easy to control on or off with a button. Plus, with elegant appearance, Pohopa B210D is also a good choice as a decoration no matter in the room or in the garden or any other place. Enjoy wireless speaker, enjoy your life.